"Democracy presupposes knowledge"
— Thomas Jefferson
Announcement from Stand Up for Public Libraries. Inclusion of Thomas Jefferson quotation by Swheatie of the KUWG.
Booking opens for Speak Up for Libraries Conference 2014

PUBLIC LIBRARIES –
THE GRASSROOTS MEET THE DECISION-MAKERS
On 22 November

Speak Up for Libraries

will be holding this year's national conference on public libraries. It will bring together local campaigners, union members, library users and library workers – and give them a rare chance to talk directly to the people who make the decisions at national level.
This is crunch year for public libraries, with a general election due and two major inquiries – on England and Wales – reporting soon.
Speak Up For Libraries Conference 2014 will have spokespeople from the three major political parties and the two report panels. It is vital that decision makers understand the real effects of their policies at local level. Already public libraries are suffering unprecedented damage. Government-imposed cuts to local authority funding have – too often – been unthinkingly applied to cut services, close essential local branches or pressure volunteers to take on services previously provided by expert staff.
The conference will be structured to enable people to network and discuss their ideas, before engaging directly with the speakers.
Speak up for Libraries Conference
10am to 4.30pm
22 November 2014
at CILIP
7 Ridgmount Street
LONDON
WC1E 7AE
THE LINE-UP
Helen Goodman MP (Labour shadow minister)

Justin Tomlinson MP (Conservative)

LibDem spokesperson TBA

Sue Charteris, panel member of the Sieghart Review in England

Claire Creaser, chair of the Welsh Review of the Public Library Service
Barbara Band, CILIP President, will open the Conference
Ian Anstice, editor of Public Libraries News, will chair the workshop feedback session

Alan Gibbons, author and library campaigner, will chair the panel debate
PROGRAMME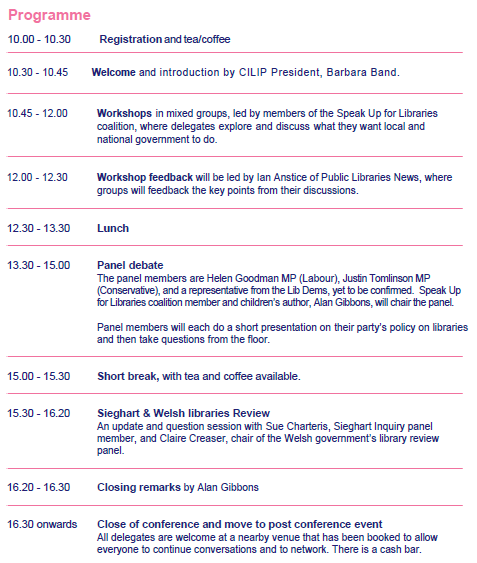 Full details are contained in the brochure, which you can download here.
Speak Up for Libraries Conference 2014
Please download and share copies for those not online, to help spread the word.
BOOKING
Book your place online on our

Eventbrite page

.
Places are limited so don't delay booking.
All bookings include refreshments and lunch.
We are offering an Early Bird booking rate of only £20 per person for those who book a place by 24 October.
If places remain after this date they will be at the full price of £25 per person.
For queries or need help to book a place, please call 020 8651 9552.

JOIN THE CONVERSATION
Swheatie adds
In response to an earlier attempt by Camden Council to close Highgate Library, it was pointed out by campaigners against closure of that library that Camden's 'consultation' printed document regarding spending priorities was almost exclusively accessed at the library, and the Principal of the adjoing primary school said that having the Library literally on the school's doorstep was a great boon for the children's early start in access to knowledge and research.
The Speak Up for Libraries Conference includes speakers from only three political parties. To find out what all the political parties say about policies and make your own decisions, you could try the online survey at Vote for Policies website and arrive at the 22 November SUfL conference with questions for the invited panel of speakers — or maybe even ask for the panel to include a wider array of political parties, based upon your own 'vote for policies' profile....